Best Gaming Monitors 2021: High-Performance Matters
Looking for the best gaming monitors to buy in 2020? You're in the right place. A high-performance monitor for gaming is way too important and resolution alone is not the factor. Now, you may have a question that gaming can be done through any monitor then why high-performance monitor?
The high-performance monitor gives high-quality graphics which creates better interaction with gamers while gaming.
There a lot more factors considered when we look for the best gaming monitors, such as:
IPS panels – better color reproduction
Refresh rate – it has a higher refresh rate which gives a smoother image
Free sync and G sync – These are generally compatible with only free sync and G sync displays.
High resolution – It brings better on-screen gaming and brings higher pixels
All these features matter a lot in gaming. Considering good monitors will make your gaming experiences better than before.
A hardcore gamer knows the feeling of playing on the big screen, isn't it? A gaming keyboard, a robust mouse and a large screen, the only combo we need 24×7.
But when it comes to a best and large monitor, there are many in the marketplace, often confusing which one to go for.
Here I have made it easy for you, by shortlisting the 8 best gaming monitor your money can buy today.
I have kept shortlisting criteria as screen size, resolution, refresh rate, etc
Best Gaming Monitors in 2020
BenQ Zowie is a gaming monitor of 27 inches. The response time includes 1ms, with 1080 resolution, color vibrancy and has an adjustable screen. Some users of BenQ have also mentioned that there's no better feeling than having a smooth gaming experience.
Let's look into BenQ Zowie technical specifications:
Dimension – 27 inch
Screen resolution– 1920/1080 pixels
Number of USB ports – 2
Weight – 16.53 pounds
Color available – Black/Red
Refresh rate – 240 Hz
Compatible with Windows 7, Windows 8, Windows 8.1 and Windows 10
The most genuine review says, 'If you play CSGO or other competitive FPS game and compete at a very high skill level and have the computer hardware to run at 240fps or higher and are willing to pay a hefty premium for an ever so slight competitive advantage — then this monitor is for you. For everyone else, save your money and buy a 240 Hz monitor.'
LG Ultrafine is another great gaming monitor. It has excellent free sync if you have an AMD video card. The resolution is taken care of by the video card which keeps FPS high. Also, the color and image qualities are really good at this price.
Moreover, adjustable-height and high screen are amazing features.
More features from LG Ultrafine are:
Weight – 14.11 pounds
Product dimension – 24.6 x 2.1 x 14.8 inches
Compatible with Mac book or Mac book pro.
It has 5120 * 2880 resolution
Provides picture in picture functionality.
178 degree wide viewing experience
Dell Marketing USA LP UltraSharp is equivalent to two 27 inch QHD monitors. It is the world's first 49" curved Dual QHD monitors. Its features include multitasking and USB connectivity.
It has response time 8ms for normal mode and 5ms for fast mode. Moreover, it lets you charge your connected USB-C laptop with up to 90Wi of power and its feature reduces harmful blue light emissions.
Other notable specifications include:
Refresh Rate – 60 Hz
Weight – 37.92 lbs
Item dimension – 47.84 x 9.94 x 21.6 in
Screen – resolution max 5120×1440 pixels
Aspect ratio – 16:9
Deco gear is an ultra-wide 35-inch gaming monitor. The deco gear monitor reduces reflections at the edge, fewer strains to the eye and gives more immersing viewing experience.
Users are not using just because it is ultra-wide but the ultra-wide feature makes it more harm-free and gives more interesting viewing experience. This also gives you more desktop space to achieve the latest objectives or display multiple windows for supreme task management.
Features are as follow:
Display Type – LED
Display size – 35 inch
Item dimension – 32.9 x 9.3 x 19.1 in
Item weight – 18.2 lbs
Size – triple monitors
BenQ 24 inch gaming monitor with 144 Hz 1ms fast response time is giving users the experience they want. Gamers need great gaming experience and they look a lot of features in monitors, and BenQ gaming monitor can be the right choice.
BenQ is best for FPS RTS and MOBA games. Its color vibrancy allows easy setting to meet personal color preferences. Moreover, it gives an adjustable screen and perfect image.
What's inside BenQ gaming monitor:
Resolution 1080
Display – 24-inch
Display Type – LED
Weight – 15 lbs
Refresh rate – 144 Hz
Acer gaming monitor is a 35-inch ultra-wide monitor. It provides a curved widescreen IPS display with AMD Free sync technology. The monitor comes with two speakers having 7 watts per speaker.
Gamers have reviewed the Acer gaming monitor as the smoothest and give faster and better gaming experience.
More features of the monitor are as follow:
Display size 35 inch
Resolution 3840 * 1600 pixels
23.61lba weight
Refresh rate 75 hertz
ASUS 35" curved monitor with 100 Hz. Its adaptive free sync makes it smoother. Its enhanced customized feature offers it Aura Sync RGB lighting on the back and LED lighting projection in the base.
The manufacturer provides 3 years rapid replacement warranty. ASUS exclusive Eye Care technology paired with swivel, tilt and height adjustability lets you game in comfort.
Let's look into some important specifications:
Screen size 34.5 inches
Panel type – 4ms
Curved panel 1800R
RGB lightning Aura Sync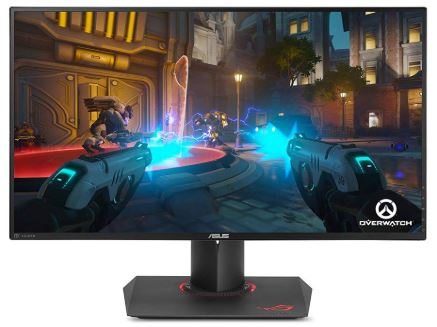 ASUS ROG PG279Q 27″ Gaming Monitor comes with 1440p IPS and adjustable economic eye care. Gamer's experiences immersive life-like color in games. With a refresh rate of 165 Hz, it gives a smoother experience. The thin bezel design brings out the best balance of screen size and resolution for gaming.
It is a seamless marathon gameplay and provides gamer center features. ASUS ROG has wide options of connectivity for WQHD input including Display Port 1.2 and HDMI ports.
Screen size – 27 inch
Panel type IPS
Response time 4ms Gray to Gray
Resolution 2560 by 1440
These are the 8 best gaming monitors that will give you great gaming experience. They are used by a number of gamers every day. It is upon you now that which one goes best for your needs.
Here is the link to LCD test index where you can test various display factors and adjust the best setting for your monitor.