8 Chrome Extensions to Block Websites [2022]
The World Wide Web is something that cannot be avoided. The internet has become a part of every human beings day to day life and has become indispensable today.
The problem is that this magnificent and incredible tool – is a big source of distraction with millions of blogs, videos, and other networking sites.
So how can we solve this? If you're a Google Chrome user, then the presumable solution is the use of chrome extensions.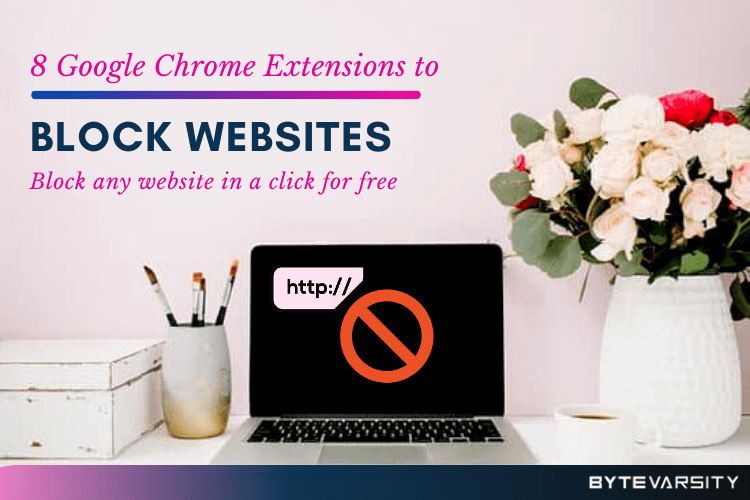 Here's a ready reckoner list of the Google Chrome extensions to block websites on Chrome. These tools help you block distracting websites, enabling you to remain focused and productive;
List of 8 Chrome Extensions to Block Websites Features and Details
Let us understand the features offered by these sites and see how they enable us to remain focused and keep free of distractions and unwanted interruptions offered online.
1. StayFocusd:
As the name suggests, it is a website block Chrome extension that helps you to remain focused on your work by restricting the time you spend on time-wasting sites.
Usually, while sitting on our computers to work, we tend to be drifted to non-work-related websites and social networks, check on E-mails and update our status on Facebook, Twitter, Instagram, and any other RSS Feed.
RSS stands for Really Simple Syndication and refers to those XML files easily read by the computer which are converted to the latest updates from websites in an easy-to-read format.
We thus get distracted and engrossed in this unproductive work of the latest site updates, throwing the task for which we intended to work on the net, for a toss.
StayFocusd automatically helps to block any distracting website depending on how you configure the blockage. This configuration can be done as per your requirement depending on:
Number of days in a week,
Any particular day of the week
At a particular time of the day
For a specified amount of time
And any other way which may come to mind.
StayFocusd has an option called "Nuclear Option". It disallows all the sites of one's choice and blocks them for a certain number of minutes or hours.
Another feature is the "Require Challenge" feature for completion of a small challenge before allowing unblocking of sites or changes in any settings.
This is a simple and efficient Chrome extension, available free of cost and can be used on PCs that use Linux, Windows, and ios operating systems.
2. Chrome Nanny:
Also known as Web Nanny, it is a Chrome extension that filters the use of contemptuous i.e. disrespectful, vulgar, or obscene language or gestures and naughty jokes on the internet.
Online content is open to one and all, irrespective of age. Children also view the internet and need to be safeguarded against vulgar and obscene words not appropriate to their age.
How to install Chrome Nanny?
To install the Chrome Nanny icon next to the address bar, on Chrome extension, confirm Web Nanny from the drop-down window on the Chrome Web Store.
The method of use is to click on the icon, box the words to be filtered and choose the replacement word. Having done so for all those words to be filtered, hit the "Clean this page" button.
All the selected words will be replaced. The only drawback is that this whole process is manual and there is no automation. In case you do not want the change and want the article as it was click "Reset custom definition".
However, for providing your children with better online protection, it would require to be used in conjunction with other Software.
3. TinyFilter:
With so many websites on the internet, Tiny Filters is an important and vital extension for parents with small children who need to be protected from undesired websites.
It is a very handy tool and is an easy alternative to any parental control software.
There are only two options available-either trust a site or if you don't, block it. It is a password-protected extension.
It is based on the "detect-and-block" method. You pre-define a set of content filter rules in a specific format under which it filters and blocks a website.
Leechblock NG is a Next Generation free to use on Google Chrome web browser extension. It can block unproductive and time-wasting websites e.g. videos, games, and social networking sites which squander away your time with no output at the end of the day.
It is not designed to block offensive content or act as a parental control site and should not be used for the purpose.
This software requires knowing only which site to block. The beauty of Leechblock is that it provides flexibility to block 30 sites for different days and different times as per needs as shown below.
You can block sites for a certain time i.e. from a certain time to a certain time, for example, a site-A from 9 AM to 2 PM another site-B from say 11 AM to 4 PM, or You can block a site for a fixed time duration, for example, a Site-C, say, 20 minutes in every hour as per requirement.
You can also block by setting a combination of both time periods and time duration, for instance, Site-D allows up to 20 minutes every hour between 9 AM to 7 PM.
Leechblock also has another feature where you can lock down a site implying instantly blocking a site for a set duration. You can also set a password for the various options as shown above so that no one else can meddle with the settings done by you.
Block site Chrome extension has an inbuilt block mechanism for p*rn or those adult sites which are not fit for viewing children.
It uses the Promodoro technique, which is a time management method. This method involves a 25-minute work period with intermittent short breaks of 3-5 minutes.
The work cycle can also be increased to the natural concentration cycle of 90 minutes. This extension helps to remain focused by blocking apps and sites, for the work cycle period you need to be focused.
6. WasteNoTime
Waste No Time chrome extension for blocking websites helps you to precisely manage and keep control over the time spent on the internet.
It helps to make a schedule for blocking off unwanted and distracting or attention diverting sites and keeps on blocking such sites.
The time tracker feature of this site, also going by its nomenclature, reports on the time spent on which site in the past day, week, or month. It tracks our activity on the internet.
With its instant lockdown feature this extension instantly lockdowns sites when working on the internet to avoid uncalled distractions and permit only limited access to the internet.
7. Site blocker:
This extension is an advanced web tool that helps block all unwanted, wasted, and undesirable websites. It closes all such websites not suitable for small children.
This extension also helps block sites by words or phrases which are not required in the content.
8. Website Blocker (Beta):
Website Blocker is a free chrome extension for blocking websites that blocks any unwanted software depending on how we want to configure it.
Just like one of the features of Leechblock, You can block sites for a particular time of the day i.e. between a certain time i.e. from a certain time to a certain time for example from 9 AM to 2 PM at a particular time of the day.
You can block sites like Facebook, Twitter or Reddit, etc. between the specified time of the day.
In the above discussion, we have tried to list and elaborate on some of the Best Website Blocking Chrome Extensions.
If you want to block websites on Chrome mobile, sadly these extensions won't help. Google Chrome extensions work only on computers, I hope Google brings extension support on the mobile version of Chrome soon.
You might like to read: